DSCC Toddler's Special Heart Surgery Gains National Attention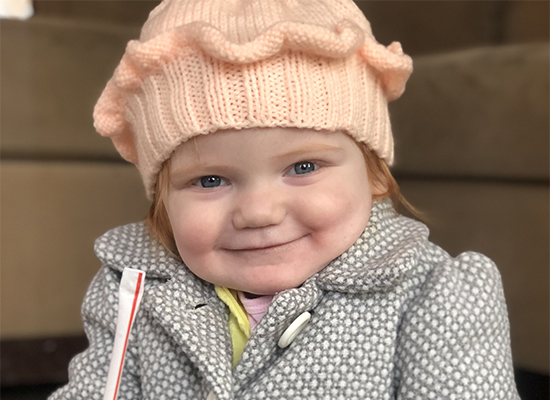 Doctors placed a "winter coat" around Eloise Hoffman's heart to fix a rare congenital heart defect.
Eloise Hoffman is an energetic 2-year-old who loves to laugh, play outside and chase her grandparents' dog.
"She's just this little fireball that people can't help but love," her mom, Krista Hoffman,  said
Thanks to what her family calls a "winter coat" for her heart, Eloise is now thriving after a major surgery to fix her rare critical heart defect.
Her amazing story has gained national news coverage and captured the hearts of thousands across the country.
"People have been so supportive," Krista said. "We are so grateful that everyone cares so much for her and for us."
Shortly after she was born, Eloise's pediatrician noticed she had a heart murmur and referred her to Dr. Michael Perez, a pediatric cardiologist at Northwestern Medicine Central DuPage Hospital.
Dr. Perez diagnosed Eloise with truncus arteriosus, a birth defect of the heart in which only one common blood vessel comes out of the heart instead of two. The single vessel means oxygen-poor blood and oxygen-rich blood get mixed together, sending too much blood to the lungs and causing the heart to work harder.
"It sort of felt like it was out of a movie, because he told us and then a few minutes later we were ushered into another room because we would have to go up to Lurie Children's Hospital via either a helicopter or ambulance," Eloise's father, Matt Hoffman, told People Magazine, who covered Eloise's story. "It all just took off from there within five minutes of learning what was happening."
Eloise required immediate surgery or she would go into heart failure. When she was only three weeks old, doctors placed a piece of Gore-Tex insider her heart.
Gore-Tex is a material that's often used to make jackets and outerwear. For Eloise, it serves as conduit to make up for the single blood vessel out of her heart.
"I like to tell people that she's got a little winter coat in there, keeping her heart warm," Matt told Good Morning America.
To Matt and Krista's relief, the surgery was a success. Eloise soon came home to her parents and older brothers.
In 2018, Eloise became enrolled with the University of Illinois at Chicago's Division of Specialized Care for Children (DSCC). Her older brother Henry, who has a g-tube and dysphasia, is also a DSCC participant.
"Since we have the two children that have special needs, it can be difficult sometimes," Krista said. "We just really appreciate that there is a service out there like this for families like us to take some of the burden away. It allows us a little less stress and a little more time to just be parents."
Today, Eloise is doing great and continues to grow and gain weight normally.
"She eats like a champ. We actually call her the little garbage disposal at our house because she loves everything," Krista said.
Dr. Perez recently told the Hoffmans that Eloise is near the point where she'll only need annual appointments.
"That's huge," Krista said. "She will probably need a (catheterization) procedure in a year or so because she has stenosis where the conduit was stitched in, and she as a mild to moderate leak in her valve. Those are all future issues, though."
Krista said her family appreciates the interest in Eloise's condition. She believes it is important to spread awareness and talk more about congenital heart defects.
"For any parents who are pregnant or have truncus babies, it seems scary, but it's not as frightening as you think it will be," Krista told People Magazine. "Focus on the things you can change, not the things that you can't."