DSCC Participant Beats the Odds to Graduate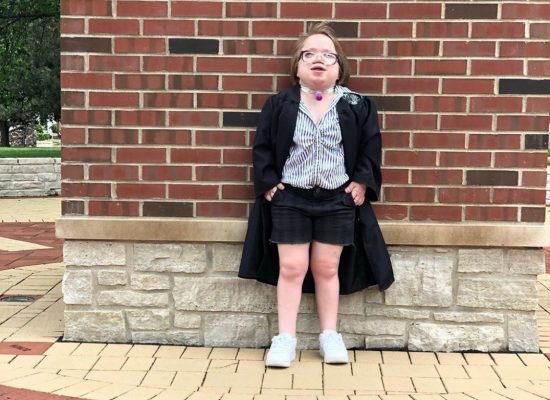 Makenzie Hardesty continues to thrive while living with a rare terminal disease.
Like many mothers on graduation day, Andrea Lancaster cried tears of joy as she watched her daughter Makenzie Hardesty receive her high school diploma.
It's a milestone that once seemed out of reach.
The 18-year-old Normal Community West High School student has mucopolysaccharidosis (MPS) type VI. It's a rare terminal illness that affects many organs and body functions. Her younger sister Isabella has the same disease.
"Quite honestly, I didn't expect them to live this long. At first I was told age 5, and then it was 13 and then it was, 'We don't know,'" Andrea said of her daughters' prognosis. "We've been doing a lot to make sure they can stay here as long as possible."
For Makenzie, these efforts meant numerous childhood surgeries and 12-plus years of lengthy enzyme replacement therapy treatments each week.
Through it all, she continued to work hard and balance school work with her medical demands.
She graduated May 25. Two local television stations covered her story.
"Do the best you can"
Makenzie said her mantra has been, "do your work and do the best you can, always."
It's a simple work ethic that can provide hope to many living with rare and terminal diseases.
"Something I want more people to see is that Makenzie and Bella are still living and striving with MPS, even later on in life than what was expected," Andrea said.
MPS Type VI is a lysosomal storage disorder. Makenzie and Isabella lack an enzyme needed to break down a certain form of sugar, so it builds up in the body. For the Hardesty sisters, it affects their airways, eyes, hearing and joints. It also causes small stature.
Makenzie has had a tracheostomy tube since she was 6 years old and needed in-home shift nursing for most of her life. She's been enrolled with the University of Illinois at Chicago's Division of Specialized Care for Children (DSCC) for 13 years.
Both she and Isabella undergo enzyme replacement therapy treatment at Children's Hospital of Illinois once a week for about six hours to help combat the effects of their illness. The lengthy treatments meant she missed one day of school each week.
Makenzie says she would get her homework assignments the day before her therapy treatments. While receiving her therapy, she'd work on schoolwork with a teacher from the hospital's pediatric school.
"I'm very proud of her," Andrea told WICS ABC Newschannel 20. "No matter what surgery she's had, no matter what she's been through, she did it with A's and B's and no missed assignments."
"You can make it"
As tough as living with MPS Type VI can be, Makenzie said her condition could be much worse, so she tries to focus on what she can do.
"I don't let that affect me because I do stuff that I like to do, and I don't let my disorder get to me," she told WEEK 25 News.
During high school, Makenzie discovered a love of photography. She's now looking into photography courses through the New York Institute of Photography.
Makenzie's current doctors say she still needs 24/7 care from a shift nurse and/or family member due to her tracheostomy tube. However, Andrea said her daughter has become much more stable and less dependent on her trach.
The family is working with their DSCC Care Coordinator to transition to an adult pulmonologist who could help Makenzie reach her goal of becoming more independent in her care.
"I want to give her space to be an adult," Andrea said.
She and Makenzie are also working with DSCC and the Department of Human Services to find out what adult services are available as she navigates life post-high school.
Makenzie encourages other DSCC participants who are starting high school to not be shy and use their voice to speak up or ask a question.
She also stresses the importance of hard work and perseverance.
"I didn't think I was going to get through it but I'm like, 'Hey, I'm done. I passed a milestone.' So if you're fighting through something, you can make it," Makenzie told WEEK 25 News.