DSCC Mom Raising Funds and Awareness for Epilepsy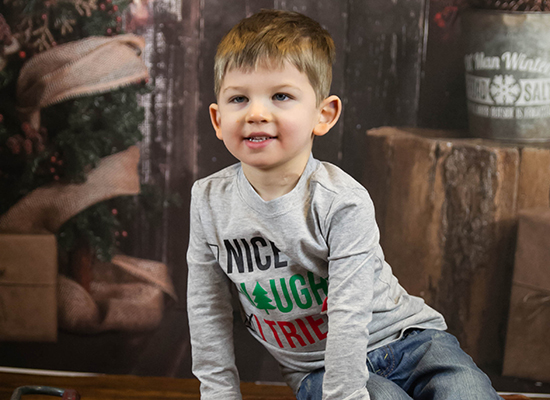 Trisha Jamison's son Everett has Dravet syndrome, a rare form of epilepsy.
Life with epilepsy can be a hard battle and an emotional roller coaster.
"To watch your small child have a seizure for an hour and be so helpless is the absolute worst feeling in the world," Trisha Jamison said.
Trisha's 3-year-old son Everett has Dravet syndrome (DS), a rare form of epilepsy that causes developmental and cognitive delays. He's been enrolled with the University of Illinois at Chicago's Division of Specialized Care for Children (DSCC) for the last two years.
After his diagnosis, Trisha immersed herself in research and connected with other parents  and individuals who have been affected by epilepsy and DS.
Her connections led her to start a successful 5k walk last October that raised more than $11,000 for the LaSalle County Epilepsy Foundation, Dravet Syndrome Foundation research and local families affected by epilepsy. Trisha says the plan is to make the walk an annual event.
"My personal driving force is after attending some Dravet syndrome conferences and talking to many in an online DS caregiver support group, there are a lot of clinical trials and research being done for better medicines and a potential cure," Trisha said. "In reality, these trials and research need money to continue, so the thought of them potentially finding a cure for my baby made me jump at the chance to fundraise for these trials. I thought it's the least I could do."
The idea for the "Seize Hope" fundraiser and awareness walk on Oct. 13 came from her friendship with Erika Fleck of the LaSalle County Epilepsy Foundation of North Central Illinois.
Trisha and Erika met through a mutual friend. Erika, who was diagnosed with epilepsy in adulthood, became a great resource for Trisha. The pair have attended several DS and epilepsy conferences together and decided to try fundraising for both foundations.
"The idea for the 5k walk came to us because there's nothing like that in our area for Epilepsy or Dravet syndrome awareness, yet there are a lot of individuals in our area that have been affected by seizures in some form or another," Trisha said.
"We decided to do this, not just for the financial aspects but to raise awareness and let people know that they're not alone and there are resources out there for them."
Trisha said she initially hoped for 50 runners and to raise several hundred dollars. But the community support exceeded her expectations with more than 100 registered walkers and $11,000-plus raised.  The Times newspaper in Ottowa and the LaSalle NewsTribune each covered the event.
While most of the funds were donated to support research, Trisha said a small portion of the proceeds were kept to support local epilepsy families with resources and related expenses.
"I want parents and caregivers to know there are support groups and so many resources available in this day and age.  I couldn't do daily life without those other parents.  They are encouraging and so full of knowledge," Trisha said.
Everett has daily atonic or drop seizures, which cause a partial or complete loss of muscle tone, and is cognitively closer to a 1-year-old. Doctors initially told the Jamisons that Everett wouldn't walk but with frequent physical therapy, he took steps last fall.
"He is on four meds and has a VNS (vagus nerve stimulation) device. But you know what, that isn't who he is.  He is so funny. He is, most of the time, so happy,  and he gives the best hugs in the world," Trisha said.
She urges other DS and epilepsy families to be an advocate and voice for their child.
"Buckle up, hold on tight and don't give up hope," Trisha said.