DSCC Family Brings Apraxia Awareness to Central Illinois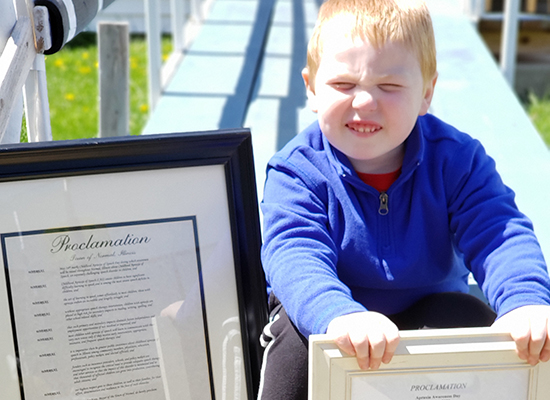 Mandy Nicolaides is raising awareness about her son's severe speech and communication disorder.
Mandy Nicolaides thought her son may never speak.
At 3 years old, he could say less than five intelligible words, she recalled.
Eldon knew what he wanted to say. The message from his brain wasn't connecting with his mouth muscles to make the right sounds.
Eldon was diagnosed with childhood apraxia of speech. It's a motor speech disorder that makes it difficult for a child to plan the right mouth movements for speech.
With the right speech therapy, Eldon has flourished and is now able to speak full sentences at 4 years old.
Apraxia is one of the most severe childhood speech and communication disorders. Yet, it is often misunderstood or unfamiliar to the general public. Mandy is now working to raise awareness and share Eldon's story.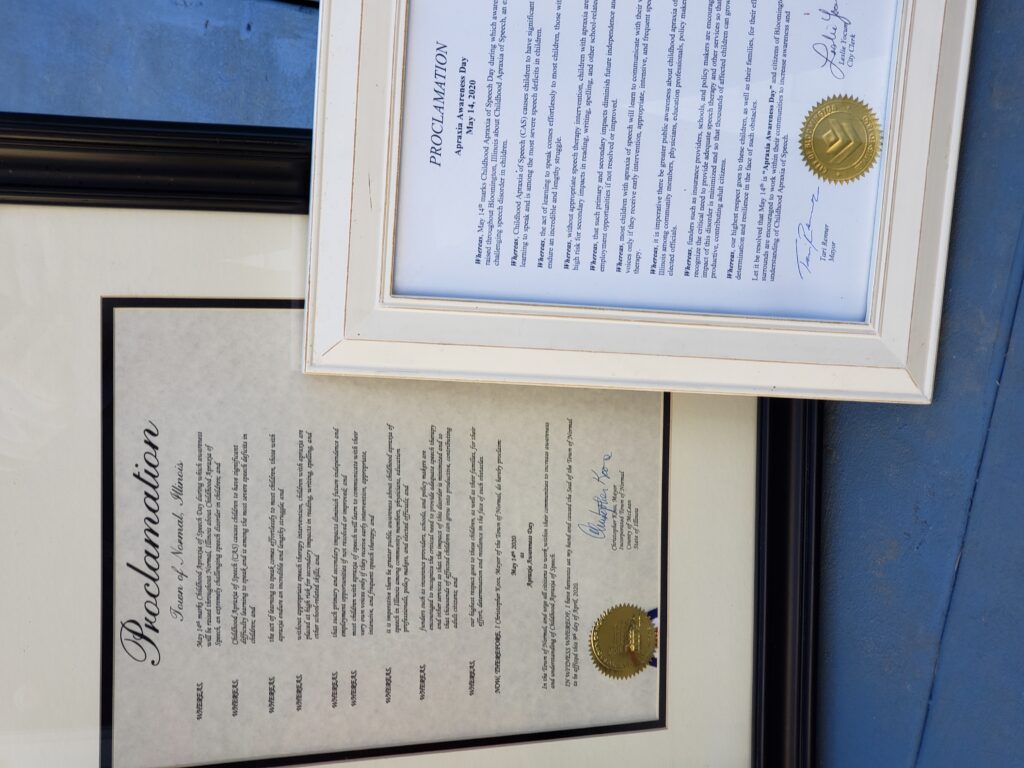 Mandy petitioned the city councils in Bloomington and Normal to declare May 14 Apraxia Awareness Day in their communities. McLean County will also make a proclamation for Apraxia Awareness Month in May. May is also Better Hearing and Speech Month.
Mandy believes it's important to be a strong advocate for her child and educate the community about Eldon's condition.
"It's frustrating because a lot of people look at him and think he doesn't know what he's saying," she said. "His receptive language is insane. His speech just sometimes comes out as gibberish, but he thinks he's saying it perfectly clear."
Eldon was born with severe hearing loss in his right ear and now has a cochlear implant.
He began receiving Early Intervention services shortly after birth. He later enrolled with the University of Illinois at Chicago's Division of Specialized Care for Children (DSCC).
As he grew, Eldon struggled to speak. Mandy at first thought he had a developmental delay.
One of his Early Intervention therapists diagnosed him with childhood apraxia of speech around his 3rd birthday.
Mandy then enrolled Eldon in the Carle Auditory Oral School (CAOS) in Urbana. The program helps children with and without hearing loss develop spoken language and listening, thinking and learning skills.
At CAOS, Eldon receives extensive speech therapy with speech pathologists well-versed in apraxia, Mandy said.
Since the family lives in Bloomington, Mandy drives an hour each way to take Eldon to school. She says the commute is well worth it.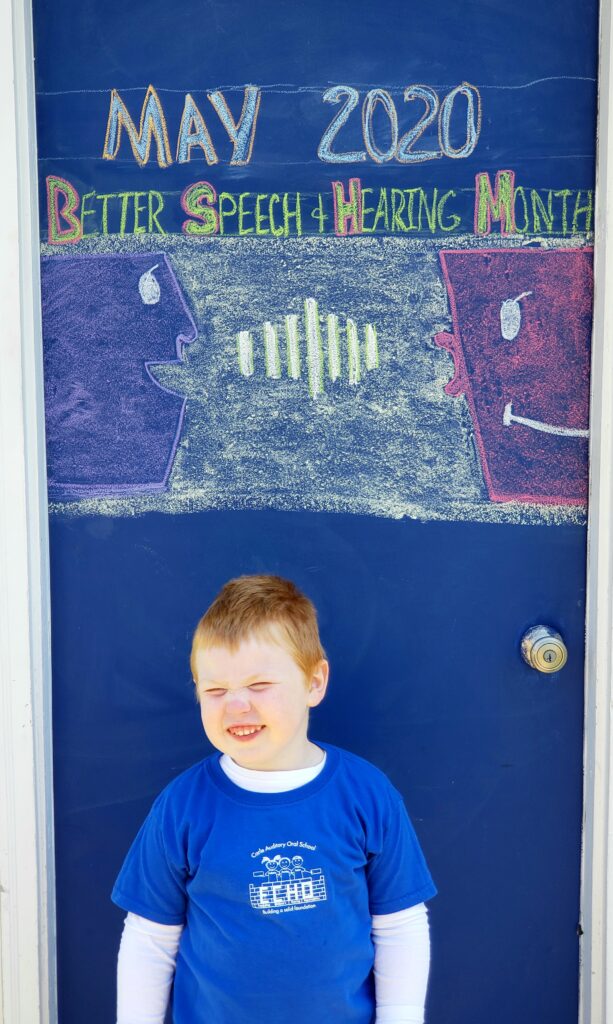 "It's amazing. I cannot say enough good things about what this school does for these kids. If they were not there, I know without a doubt Eldon would not be where he is," she said "Every child with apraxia is different. They might struggle with different sounds or words, so his school is tailored to each child and their needs."
Speech therapy is vital for youth with childhood apraxia of speech.
"The biggest thing is being able to diagnosis it properly. Kids can be so different on what they struggle with," Mandy said. "With Eldon, it's a double-whammy. He has the apraxia and he has the hearing loss, which makes it difficult to pinpoint sounds."
Mandy is thankful for the support from the CAOS program, Early Intervention and DSCC to help Eldon receive the right therapy and services for his unique needs.
"Early intervention gave me so much insight and answers to so many questions and helped guide me in the right way," she said.
Mandy calls her DSCC Care Coordinator, who is a speech-language pathologist, phenomenal. She attends Eldon's appointment and takes notes for Mandy. She also helps the family find resources and stay on track with important deadlines.
"It's definitely been an emotional journey and an exciting and scary journey," Mandy. "I remember people telling me at the beginning of this to document everything… It's hard sometimes when there isn't a lot of progress or times when we're stagnant. But then I look back and remember where he was and that all of these little accomplishments are huge for him."
For more information on apraxia, visit www.apraxia-kids.org.
More information on Eldon's progress and the family's fundraising efforts for the Carle Auditory Oral School is available on their fundraising page.