DSCC Helps Brothers Meet Soccer Heroes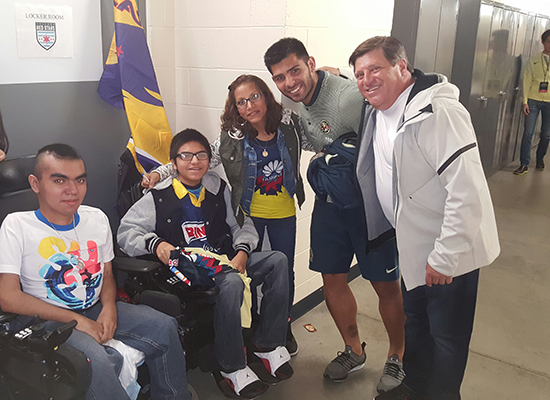 Miguel and Carlos spend time with Club America soccer team, thanks to their DSCC care coordination team.
One of the main ways that UIC's Division of Specialized Care for Children (DSCC) helps children with special healthcare needs and their families is through a process called care coordination.
Our care coordination addresses each child and family's unique needs. It can include helping a family understand their child's diagnosis or connecting a family in need of financial assistance with the right resource. Sometimes, our care coordination involves providing experiences that simply help a special needs child be a kid.
A care coordination team from DSCC's Chicago Core Regional Office recently used their creativity to provide one such priceless experience to two brothers with muscular dystrophy.
Miguel, 17, and Carlos, 14, are big soccer fans who live near Toyota Park in Bridgeview. The park hosts major league soccer games with players from around the world, and the teens had hoped to meet the Mexican soccer team Club America.
Miguel and Carlos' mother reached out to their Care Coordinator Rita DeSoto and Program Coordinator Assistant Maria Carrera to see if they could help.
Maria invited their mother to the Chicago Core office to sign authorizations so she could contact the team's marketing and promotions manager on her behalf. Rita was able to reach the manager two days before the game and with the family's permission, wrote a letter detailing Miguel and Carlos' condition and why they wanted to meet the team.
Thanks to Rita and Maria's efforts, the teens were able to meet the team and take photographs and collect autographs from their favorite players. Their mother reported that they were "surprised, grateful and overjoyed."
"Each day freedoms such as walking, running, playing, laughing, eating and breathing can be taken away from children with muscular dystrophy," Chicago Core Regional Manager August Nall said. "The Care Coordination team communicated the family's needs at the right time to the right people and they were able to secure a service the family wanted."
Great work, Rita and Maria!