DSCC Families Connect, Find Support for Children with Hearing Loss During Annual Institute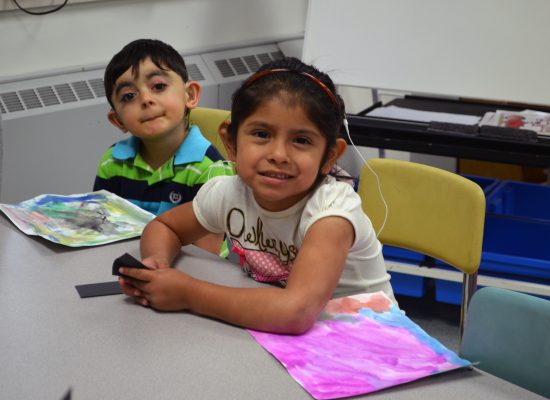 Families gain valuable information and confidence during the 2018 Institute for Parents of Preschool Children who are Deaf or Hard of Hearing.
Late last year, Kendall and Nick Gould's infant daughter, Tate, was born with a hearing loss in both ears. The Chicago couple immediately wanted to learn as much as possible to be effective advocates for their daughter.
A few months later, the Goulds packed up Tate and her big sister, Elle, to travel to Jacksonville for the Institute for Parents of Preschool Children Who are Deaf or Hard of Hearing. They were among 23 families from around the state who attended the free one-week program at the Illinois School for the Deaf campus from June 10-15.
"It's a terrific opportunity to learn a broad array of perspectives," Nick said.
The couple enjoyed listening to the experiences of other parents as well as professionals with a hearing loss themselves.
"I'm learning a lot and being instilled with confidence as a parent to know we're doing the right thing," Kendall said.
The Institute provides support and valuable information on communication options, language development, amplification, social-emotional development and school programs.
"A great experience"
Participating parents attend daily lectures by experts in the field to learn about raising a child with hearing loss.  Lecture topics include child development, types of hearing loss, language development, communication choices, deaf culture and school programming. Other activities include meeting in small groups to discuss specific concerns and connecting with other caregivers.
During the Institute, children attend classrooms overseen by experienced teachers of children who are deaf or hard of hearing. They have the opportunity to receive hearing, vision, psychological, speech, language and educational evaluations as well as play with other children who have a hearing loss.
Their siblings are also welcome to attend. This year's sibling program had 15 children.
There is no cost for families to participate, and meals and housing are provided at no charge.
UIC's Division of Specialized Care for Children (DSCC) supports the Institute, along with other sponsors. DSCC Care Coordinators and other team members work hard to help eligible families enroll in the Institute.
Tiffany Farrer attended the Institute with her 2-year-old daughter, Jane, who has a hearing loss in both ears. Their family had just moved to Quincy from South Dakota on May 31.
Tiffany had learned about the Institute on the internet and thought it could be helpful to introduce her family to services and providers near their new home. She explained that her family didn't yet have an Illinois doctor or audiologist for Jane.
Springfield DSCC Care Coordinator Daniel Porter immediately contacted the Farrers and traveled to their home on June 5. He helped the family fill out the applications and submit all necessary paperwork to enroll with DSCC. Daniel also assured the family he would help find the right providers within their insurance coverage.
The following day, Jane was enrolled as a DSCC participant and accepted for the Institute.
"Daniel took care of everything," Tiffany said.
While at the Institute, Tiffany said she enjoyed learning more sign language to give her daughter more communications options.
"It's a great experience, I'm happy to be here," she said.
"Thankful for the friendships"
Andrea Stambaugh attended the Institute with her 2-year-old son, Axel Johnson. Axel has bilateral hearing loss and cochlear implants in both ears.
Andrea is active with Illinois Guide by Your Side and heard one of the program's parent guides speak highly of the Institute. She wanted to be able to learn more about resources and develop relationships with other families who have children with a hearing loss.
"I've liked meeting the other families, and it's been good for Axel to see other deaf children and adults," Andrea said.
DSCC Family Liaison Violet Wiker said these special connections and conversations are what the Institute is all about.
"These families are so appreciative that they have the opportunity to learn from so many different professionals. They are even more thankful for the friendships they are forming," she said.
For more information about the Institute for Parents of Preschool Children Who are Deaf or Hard of Hearing and how DSCC can support children with hearing loss, call (800) 322-3722 or email dscc@uic.edu.
Visit DSCC's Facebook page for photos from this year's Institute.
---
The condition in this story is covered by Specialized Care for Children