DSCC Celebrates 80 Years with "Cake" Contest for Charity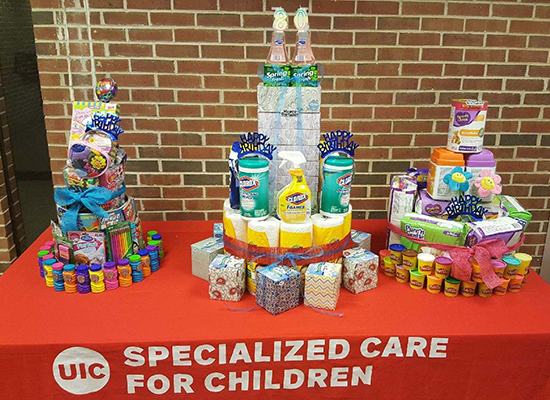 Regional offices donate "birthday cakes" filled with items for nonprofits across Illinois.
A dozen charities across the state are benefiting from a special service project in honor of the University of Illinois at Chicago's Division of Specialized Care for Children's 80 years of service to Illinois families.
Since 1937, the Division of Specialized Care for Children (DSCC) has partnered with Illinois families and communities to connect children with special healthcare needs to the services and resources they need to reach their full potential. For its 80th birthday, DSCC's employees planned a special birthday cake competition with a twist to benefit the organization's numerous community partners.
All employees at our 12 regional offices and central administrative office in Springfield were invited to work together to collect the cake ingredients. However, no cake mix and frosting was allowed. The "ingredients" had to be items that can be donated to a local charity of employees' choice. These items could include canned goods, paper goods, school supplies, personal hygiene products, diapers, etc. – whatever the selected nonprofit needs. The donated items were brought to the office on Friday, Sept. 22, and employees used the donations to build a "birthday cake" during their morning and lunch breaks.
Our regional offices selected charities ranging from crisis nurseries and pregnancy care centers to homeless and domestic violence shelters. Photos and descriptions of the various cake creations are posted on our Facebook page here.
We are extremely proud that our staff members' generosity and creativity could help so many worthy causes. We couldn't ask for a better way to celebrate 80 years!