DSCC Care Coordinator Raising Funds for Soldier Suicide Prevention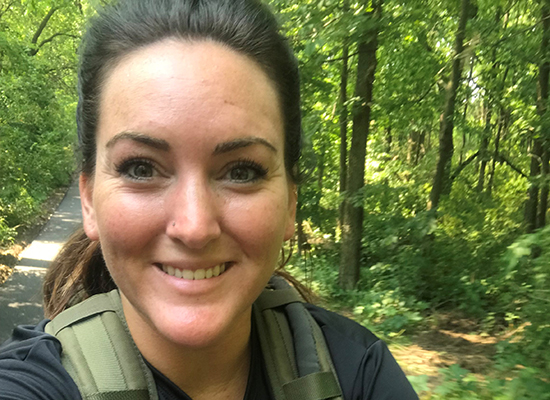 Haley Shropshire of the Peoria Regional Office is biking 250 miles as part of nationwide Stop Soldier Suicide Cycling Challenge in July
Four months ago, Haley Shropshire, a Division of Specialized Care for Children (DSCC) Care Coordinator from the Peoria Regional Office, got a new bike. She hadn't owned a bike since she was 10. Now, she's part of the Stop Soldier Suicide Nationwide 250 Mile Cycling Challenge during July.
The challenge is raising awareness and funds to end soldier suicide.
"I've grown up surrounded by family members and other individuals who have served in the military. My father served seven years in the Army infantry and although he didn't die of suicide, it's important that I show my support and respect for what he did to serve our country," explained Haley. "I don't usually do Facebook fundraisers, but I love this cause and just had to go for it!"
According to the Stop Soldier Suicide website, veterans are at a 50 percent higher risk of suicide than their peers who have not served. Stop Soldier Suicide's mission is to reduce the military suicide rate by 40 percent by 2030.
Funds raised through their Facebook challenges provide direct support to service members and veterans at risk for suicide.
Haley cares deeply about this cause and is hoping others will visit her Facebook page for more information, to check on her progress or make a donation by Aug. 7.
"Riding my bike is just so freeing! I've really been encouraged by the great comments and support," Haley said "I set up my page in June and was surprised when I passed my goal before I started riding. I bumped up my goal and am really hoping I can pass it again. It's all been so amazing!"
Haley is fast approaching her current fundraising goal of $500 and has logged more than 143 miles.
"I'm riding because I want to help and I want service members who are struggling to know there's help," Haley said. "I would be thrilled if my challenge could raise $1,000. That would help so many get the help they need."
Haley also encourages any interested DSCC staff members to ride or join her on Facebook.
"I may be riding my bike alone, but I'm not going solo. It's been incredible," she said.
If you know a struggling service member, veteran or military family member, Stop Soldier Suicide can help. If you're a veteran or service member in crisis, please call (844) 317-1136.