DSCC Associate Director Earns Nursing Honor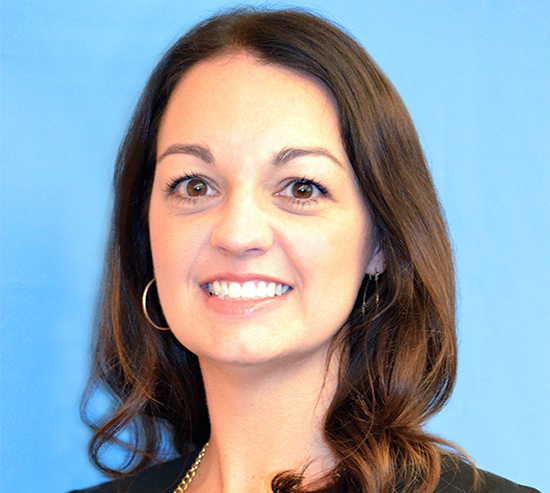 Molly Hofmann has been named an Emerging Nurse Leader in Illinois.
The University of Illinois at Chicago's Division of Specialized Care for Children (DSCC) is pleased to announce that our Associate Director Molly Hofmann is one of the 40 Under 40 Emerging Nurse Leaders in Illinois.
The Illinois Nurses Foundation sponsors this award, which highlights and celebrates young nurse leaders who are influencing health care and the nursing profession today.
Molly is an advanced practice registered nurse (APRN) who serves as DSCC's Associate Director of Care Coordination. In this role, she oversees the development and implementation of all care coordination operations, policies and procedures for the Core and Home Care Programs.
Molly is also working on her doctorate of nursing practice degree through UIC's College of Nursing in Peoria.
"This is a wonderful recognition of what she has accomplished in her young career. We are fortunate to have Molly as part of the DSCC Leadership Team," DSCC Executive Director Thomas Jerkovitz said. "She lives our mission to partner, help and connect every day."
Molly says she is passionate about the appropriate and comprehensive care of the pediatric patient and their family.
"I have seen the positive impact good care coordination can have for children and their families and am excited to be a part of a team with a mission to partner, help and connect families and the community," she said.
Before joining DSCC in November 2016, Molly worked as an APRN at the Pediatric Resource Center in Peoria. The Pediatric Resource Center is a program of the  UIC College of Medicine in Peoria and affiliated with Children's Hospital of Illinois (CHOI).
Her past experience also includes:
Serving as an APN and clinic coordinator of the Trach/Vent Program at CHOI
Performing clinical projects as a Six Sigma Black Belt
Working as a registered nurse in pediatric intermediate care and the emergency department
Molly lives in Washington with her husband and two young daughters.
Molly and her fellow awardees will be honored on Sept. 12 at the Illinois Nurse Foundation's award recognition event in Lisle.
Congratulations, Molly, on this well-deserved honor!