DSCC Announces 2017 Award of Merit Winner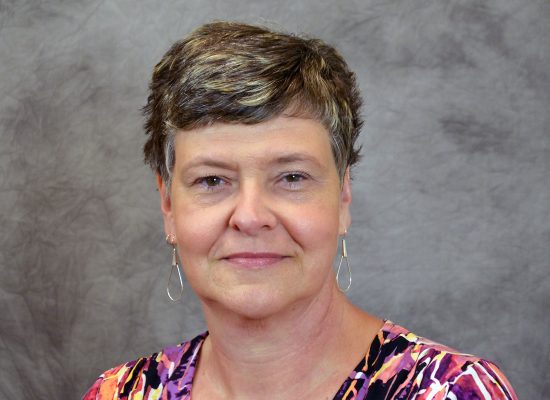 Mokena Regional Office's Lynda Miller honored for outstanding service to children with special healthcare needs.
Lynda Miller of Lemont is the 2017 recipient of the University of Illinois at Chicago's Division of Specialized Care for Children (DSCC) Award of Merit. The award recognizes exceptional employees for outstanding dedication and service to children with special healthcare needs.
DSCC is a statewide program that partners with Illinois families and their local communities to help children with special healthcare needs connect to the services and resources they need to reach their full potential. We serve thousands of families each year in all 102 Illinois counties through a network of nurses, social workers, speech pathologists, audiologists and other team members in 12 regional offices.
Lynda is a Program Coordinator Assistant in DSCC's Mokena Regional Office, working with Care Coordinators in her office to develop a plan of care for each family that addresses their child's medical, social, behavioral, educational and financial needs.
"Lynda exemplifies DSCC's mission to partner, help and connect with families and communities to improve the lives of children with special healthcare needs and put them at the center of a seamless support system," DSCC Executive Director Thomas Jerkovitz said. "Lynda has touched countless lives during her nearly 30-year career and is an unwavering champion for our organization and the families we serve."
Colleagues across the state say Lynda's primary focus and concern is giving DSCC families the best service possible and treating them with kindness and respect. Lynda is also praised as an effective problem-solver who is willing to step outside of her comfort zone to learn something new, hard or time-consuming to get the job done.
Lynda, who was also nominated for the 2016 Award of Merit, said she enjoys all facets of her job. "I love helping whenever and wherever I can," she said. "I have been lucky to work with a lot of people who have mentored me along my DSCC career.  I wouldn't have the knowledge and ability to do what I do without their help and assistance along the way."
DSCC staff nominated five of their colleagues for this year's Award of Merit. As the winner, Lynda receives an Award of Merit memento, a $2,000 award and recognition from the Executive Director.
The other 2017 nominees are:
Dawn Brzostek, Customer Service Assistant, Rockford Regional Office
Cherie Dalbke, Care Coordinator/Speech and Hearing Consultant, Chicago Core Regional Office
Diana Maldonado, Program Coordinator Assistant, Lombard Regional Office
Glenda Rahn, Program Coordinator Assistant, Champaign Regional Office
Congratulations, Lynda, and a big thank you to all of our nominees!