DSCC "Angel" Helps Teen's Wish Come True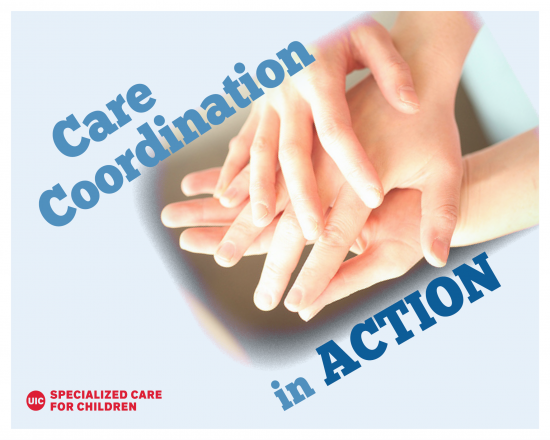 Division of Specialized Care for Children participant Trenten Jankuski has a special vacation and accessible home, thanks to Care Coordinator Angel Lawrence's efforts.
Angel Lawrence is a Care Coordinator at the University of Illinois at Chicago's Division of Specialized Care for Children (DSCC). A big part of this job involves connecting families with the right services and resources to support their children with special healthcare needs. Sometimes, a seemingly simple connection can make a dream come true.
Such was the case for Trenten Jankuski, a 16-year-old DSCC participant with cerebral palsy.
More than two years ago, Angel started working closely with Trenten's family to help make their home more accessible.
The Jankuskis live in a bi-level home. It made sense for Trenten's therapy needs to move his living space to the home's lower level. However, Trenten's power wheelchair could not access the lower level.
Angel got to work seeking bids from vendors who could examine the house and determine what modifications would be necessary. Angel enlisted the help of UIC's Assistive Technology Unit, which determined that an elevator would be the best option for the home and Trenten's wheelchair. The elevator, however, would have a high price tag.
Angel then started checking for funding sources and grant opportunities. After months of effort, she helped the Jankuskis receive a grant from the Illinois Department of Rehabilitation Services to cover most of the elevator's costs. Angel also contacted Make-A-Wish Illinois and the Illinois Elks Children's Care Corporation to see if any assistance was available.
The Illinois Elks Children's Care Corporation was able to provide the remaining funds needed for the elevator, which was installed in March.
But the Make-A-Wish Foundation took an interest in Trenten's story and contacted his mother to set up an interview in February. A trip to Disney World for his whole family was soon in the works for the avid Disney fan.
On March 15, local Make-A-Wish granters met Trenten's parents at his high school to surprise him and announce the special vacation would start that Sunday. The Kankakee Daily Journal newspaper was there to capture the fun announcement. You can read the Daily Journal's coverage on the newspaper's website.
Angel said she's delighted to see Trenten, his parents and his siblings have this special getaway together.
"This is an opportunity for them as a family to really enjoy one another in a fun atmosphere, away from the reality of day-to-day life," she said. "They can enjoy a real vacation."
We're grateful for Angel's hard work to help this very deserving family. Congratulation to Trenten and all of the Jankuskis!