Annual Report
In fiscal year 2016, we served more than 18,000 families across Illinois.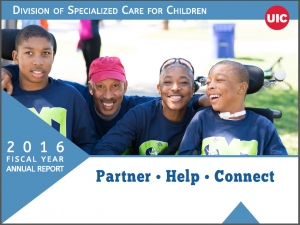 The University of Illinois at Chicago's Division of Specialized Care for Children is continually evolving to partner with healthcare systems and searching for new ways to strengthen our relationship with families and communities to improve the lives of children with special healthcare needs and those who care for them.
We are proud to introduce our first Annual Report to provide an overview of these efforts for fiscal year 2016.
This report highlights our programs to support families as well as our community outreach activities and educational opportunities and internships. Click below to learn more.