Peoria Regional Office
Contact Info
7013 N. Stalworth Drive Peoria, IL 61615
P:

(309) 693-5350

TTY:

(309) 693-5345

F:

(309) 693-5306

Toll Free:

(800) 382-8569
Hours
Monday - Friday
8:00am - 4:30pm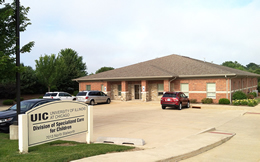 Satellite Offices
Cardiac Clinic
Congenital Heart Center
420 NE Glen Oak, Suite 301
Peoria, IL 61603
2nd Monday of each month
Call (309) 693-5350 for time
UIC-Spina Bifida Clinic
OSF Saint Francis
420 NE Glen Oak, Suite 201
Peoria, IL 61603
2nd Monday of each month
Starts at 1:00pm
Oral Facial Anomalies Clinic
Easter Seals
507 E Armstrong Avenue, 2nd Floor
Peoria, IL 61603
2nd Friday of each month
Starts at 1:00pm
Local Resources
Community Living (Narvick House)

Provides support and guidance cooking, budgeting, banking, shopping, other daily living activities, and community integration. The goal of this program is to obtain independent living skills.

(815) 942-6702

Dunlap & Central Illinois Special Needs Parent Group

A forum for parents to discuss different topics for their special needs children.

Meets monthly at Dunlap Valley Middle School.

For additional information, contact Libby at (309) 693-0514 or email dunlapparentgroup@att.net.

Grants for Home Repair or Modification

Grants may be available through Illinois Housing Development Authority to help low-income families repair their home or make home modifications to improve accessibility.
Browse all Peoria resources