The Smolka Family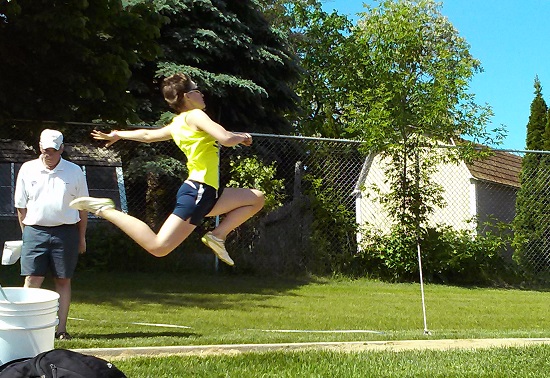 "[Specialized Care for Children] helped take part of the stress out of life..."
— Terri Smolka
"Being brave doesn't mean you're not scared. It means you're scared, but doing something anyway."
"I am visually impaired due to a hereditary eye condition called Retinitis Pigmentosa (RP)," Samantha (Sam) Smolka explains. "I have about 5 degrees of peripheral vision, and my straight ahead vision is about 20/100. My eyes curve in due to esotropia, and it is only corrected when I have my glasses on."
"I also have leg issues due to undeveloped heel cords that cause me to walk on my toes and have muscle spasms in my legs. I wear braces on both legs to help me walk normally. Even though I have vision and leg issues, it doesn't stop me from doing what I love to do."
Sam's mother Terri explains, "Samantha has been with the DSCC "family" for a number of years. We found out about DSCC's programs and services after we met a family whose daughter was deaf, and they told us about this organization. Over the years, DSCC has really helped our family with financial and insurance assistance. Without DSCC we would have been in financial crisis, since our insurance deductibles are high," Terri shares. "DSCC paid what our primary did not cover, especially the co-pays. They helped take part of the stress out of life, meaning that when Sam needed services, I just had to let her DSCC Care Coordinators know, and they would pre-authorize our visit."
"Sam was diagnosed at 16 months old. Even then, her father and I agreed we wouldn't treat her any differently than any other child. We never let Samantha's disability hinder her in any way­ ‑ if she wanted to try an activity, we would let her try it."
"Being visually impaired all my life has not held me back at all," Samantha says proudly. "Over the past five years, I have been affiliated with the U.S. Paralympic Track and Field team. I've set records in my visual classification (which are still standing) in the 100 meter, 200 meter, and long jump. Currently, I'm on the Paralympic 'emerging athlete team,' which means I am on my way up to possibly making the 2016 U.S. Paralympics Team and competing internationally in Rio de Janeiro, Brazil. This has been a dream of mine since I began training."
With a winner's grin, Sam shares, "At July's Nationals, I won first place in all my events, including in discus, where I also set a new national record." Sam was also presented with the Spirit of Excellence Award for Field at the Nationals' Sports Banquet.
"People have told me before that I could not reach the goals I had set for myself to accomplish. I have had many more inspiring people tell me that I can be whoever I want to be in life," Samantha reflects. "Right now, I am doing just that!"
When she's not training for the Paralympics, Sam is busy attending Northern Illinois University. She is majoring in Special Education and competing for their Women's Track and Field Team.
Sam shares the advice she lives by, "Being brave doesn't mean you're not scared. It means you're scared, but doing something anyway."