The Anderson Family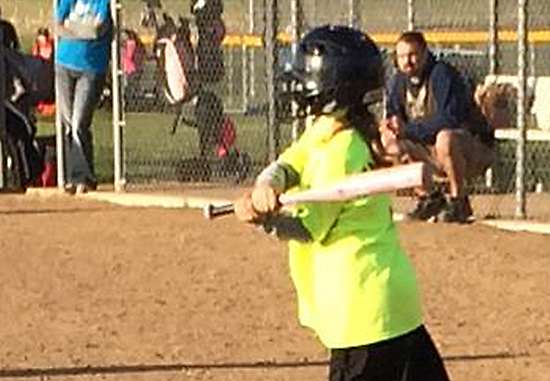 "This past summer, Mariah played softball for the first time in her life. Softball was one of the things we once were told Mariah would never do. But, she did it! I cannot wait to see what the future holds for her"
— Missy Anderson
"DSCC is a must for anyone with a child with disabilities. They give every child the individual attention [their] case needs."
Seven-year-old Mariah has come a very long way. Mariah was born in October 2007 with a large tumor in the left ventricle of her heart. She had three open heart surgeries before she was three years old. Mariah was just a few days old when doctors performed the first surgery. She had two more at 6 months and 2 ½ years old.
When Mariah was five, her doctor told the Anderson's she could have another heart surgery that would remove the tumor and repair her pulmonary valve. The only pediatric specialist who could perform this type of surgery was Dr. Pedro del Nido at Boston Children's Hospital in Massachusetts. Dr. del Nido explained Mariah's prognosis with both treatment plans. If the tumor was not removed, Mariah would remain on medication with a very limited lifestyle and further cardiac complications as she aged. With the tumor removed, Mariah could return to a normal lifestyle with no restrictions and possibly no medication.
Our medical insurance specialist needed to determine if UIC-Specialized Care for Children could assist the Anderson's with co-payments and travel expenses associated with the out-of-state surgery. We also wanted to offer care coordination through the entire process to support the family with all available resources.
The Anderson's Care Coordinator, Mabel Mason, worked with all our departments, meeting schedule deadlines, obtaining necessary approvals, and documenting the required medical information. A request was sent to our Director to allow an exception for the out-of-state care, which he granted on February 14, 2013 (Valentine's Day).
Mariah and her family went to Boston in late February 2013 for final evaluation and then surgical resection of the fibroma cardiac tumor. Her post-op period had some complications, but she continued to progress and was able to return to St. Louis via air ambulance for one more final week of hospitalization in April 2013.
Today, just over a year-and-a-half after her life-changing surgery, Mariah is thriving! She is off all medications, has no activity restrictions and goes to elementary school.
"This past summer, Mariah played softball for the first time in her life," shares her mother, Missy. "Softball was one of the things we once were told Mariah would never do. But, she did it! I cannot wait to see what the future holds for her!"