Drew's Family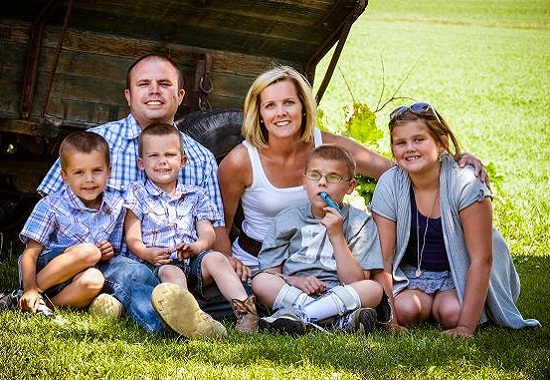 "My child's health needs are not as severe as others — they've helped me realize that our needs are just as important...My advice is to just ask for help."
— Kim
"It's good to know we're just not alone…"
By the time Drew was two years old, he had become a "regular" at Rush University Medical Center in Chicago, which wasn't exactly a quick commute from his family's rural home.
After a typical pregnancy and birth, Drew was diagnosed with a heart murmur and the congenital heart defect ASD. His mother, Kim, says they spent the first six months of his life in and out of the hospital, trying to keep him healthy. Even after heart surgery at 18 months corrected the defect, Drew was on a feeding tube until he was two, didn't walk until he was three (and needs braces to do so), and has issues with his eyes.
As the busy mother of four, Kim was grateful to hear about Specialized Care for Children during one of their frequent visits to Rush.
"I kept finding out things we didn't know," she says of her newfound connection to Specialized Care for Children. "I found out that a lot of things that weren't covered by insurance could be covered." Specialized Care for Children helps with Drew's medical supplies, oxygen, feeding tubes, and doctor co-pays.  Kim says, "I wish I would've known sooner, but I'm thankful I found out when we did."
Eventually Kim became a member of the Family Advisory Committee, where she has built relationships and gained much-needed parent-to-parent support.
"It's almost like a counseling session for me," Kim says. "It's good to know we're just not alone, that there are other parents like us—we all are looking to put our children first. My child's health needs are not as severe as others — they've helped me realize that our needs are just as important, too—that Drew is just as important as the other children served by [Specialized Care for Children]."
And now Kim is able to support other parents, especially those who are new to the world of specialized care.
"My advice is just to ask for help. If you need any kind of support, just ask for help. Don't be afraid—there are no dumb questions. Hopefully [Specialized Care for Children] can help you get services for your child."