Rock Island Regional Office
Contact Info
Rock Valley Office Park 4711 44th Street, Suite 1 Rock Island, IL 61201-7169
P:

(309) 788-4300

TTY:

(309) 788-6443

F:

(309) 788-7780

Toll Free:

(800) 651-9526
Hours
Monday - Friday
8:00am - 4:30pm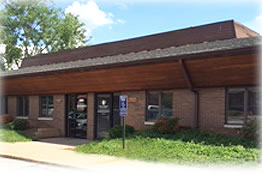 Local Resources
If you're looking for programs and services when Specialized Care for Children is closed, dial 211. United Way and PATH Crisis trained staff are available 24 hours a day, 7 days a week, 365 days a year.

A Federal protection and advocacy system for Illinois citizens with disabilities. They offer self advocacy training, one-on-one self advocacy assistance, legal and public policy advocacy. Visit the website to find local offices.

Give Kids a Smile Dental Program

A dental bus travels to schools in Rock Island and Scott Counties to provide dental care to children.  Services are available to children ages 3 to 17 who are at or below 200% of the federal poverty level, who have never been to a dentist, who do not have dental insurance or have Medicaid but cannot find a dentist who accepts that type of insurance.
Browse all Rock Island resources